Softcom

— An

innovative

white

book
Reaching the peak of two decades of technological development

SOFTCOM Technologies SA is an independent Swiss company specialised in software development.
Context
Every endeavour is built upon those that precede it. To celebrate its 20 years of existence, Softcom wanted to offer their clients an overview of two decades of innovation – sharing their expertise and understanding regarding developments in energy, mobility, public administration and more. The goal was to highlight their ability to guide clients by asking the right questions.
Softcom approached us looking for a companion for this expedition. The first thought was to use a digital medium, to compliment their digital expertise. However, digital is a world of constant change, ephemeral content and endless transformation. Why not create an object that remains – made to last and timeless? A physical medium that can be reissued in 50 years.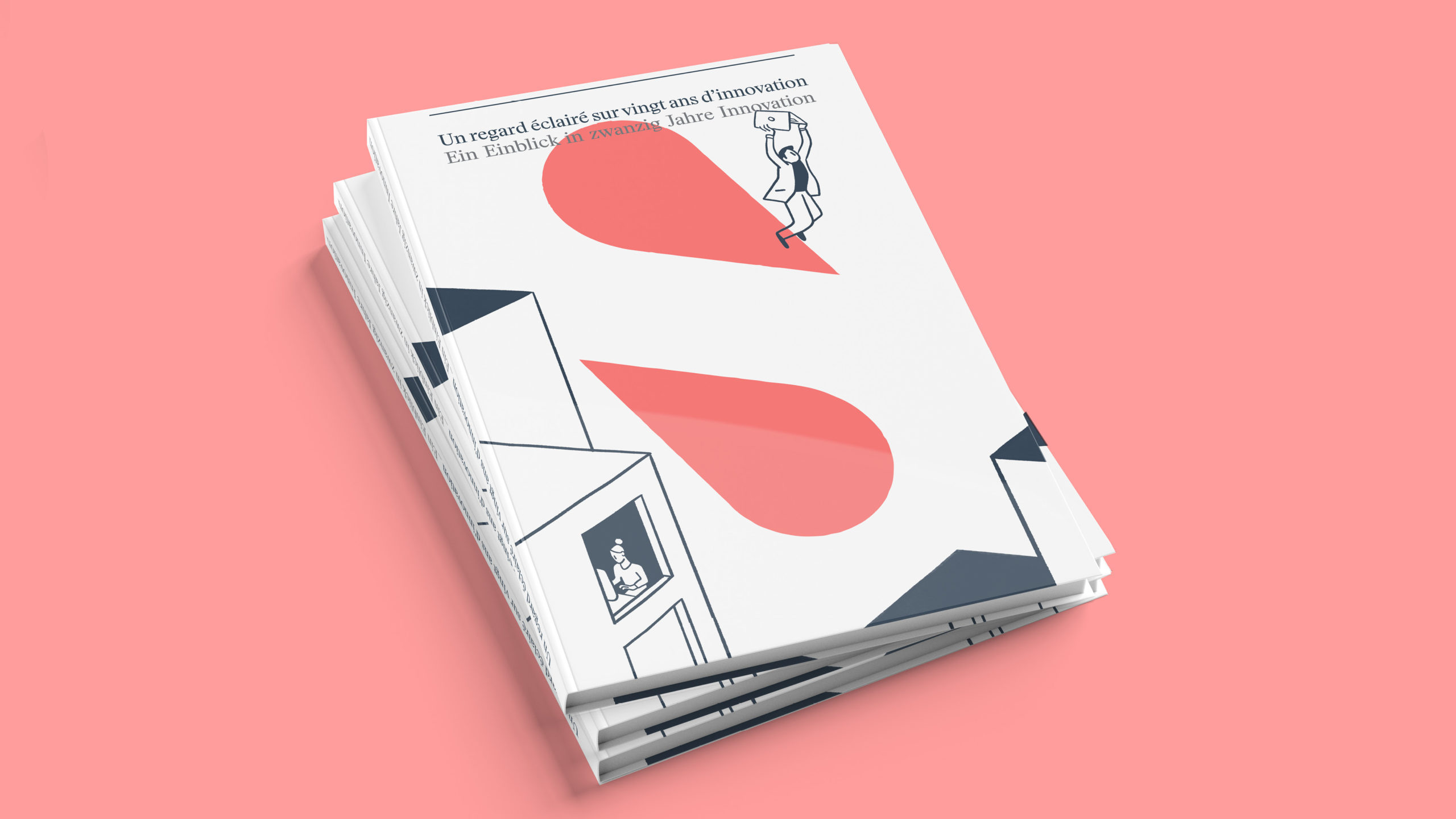 Approach
A Mountain Journey;
The philosophical cornerstone of the book focussed on the duality between humans and digital: How can we adopt technological innovations while keeping the human element at the centre of our activities?
This duality is reflected in the combination of illustration and graphic work. The handmade illustrations refer to the craftsman, while the layout and letter type have a digital feel. 
Illustration makes reading more dynamic. For example, we included small, fun characters that are woven into and interact with the text and layout. The graphic design was unique to this project, deviating from the Softcom identity path without going too far into the wilds.
Furthermore, philosophical insights form a twisting path at the top of each page – teasing the final preface.
Just like any mountain expedition, this project was a collaboration. Cartoonbase provided the look and feel, while the copywriting itself came from high profile individuals selected by Softcom: journalist Medhi Atmani and mountaineer Jean Troillet.
Translated For The Locals;
Softcom is based in Fribourg, so its employees and clients are Swiss German-speaking and French-speaking.  We made sure that both languages coexist in parallel – equally – and not one after the other. This makes sure that every reader has a great experience, and that everybody can identify with the content.
Impact
At the end of the journey – at the peak of the mountain – lies an exquisite 190-page visual guide book in a magazine-style format.
Limited to 1000 copies printed by PCL Presses Centrales SA, it was sent far and wide to clients, partners, prospects, media channels and employees.
Here are just a few remarks from those involved:
We didn't have the opportunity to offer a gift to our clients, or to invite them to a big party.
[...]The idea of the visual guide book quickly appealed to us and we are delighted with the result. [... ]We can even use this content on our social networks
to extend the impact on our markets.

Why were only 1000 copies of this book published? It could be sold in bookshops!
I really liked the illustrations, which bring a bit of lightness to the book. The layout is beautiful and original, making it simple to read.
This great bilingual book fuelled my discussions with my colleagues.
Les défis de la numérisation sont bien exposés et décrits de façon pertinente. Le fait que le français et l'allemand soient présents de manière homogène dans le livre m'a permis de le partager avec mes collègues suisses-allemands et d'alimenter nos discussions.

We're

always

open

for

a

chat

,

so

get

in

touch

to find

out

how

we

can

help

your

brand

and

business

.