What does your target audience want from you? It depends on what they are trying to accomplish at a specific moment. Use the right kind of video at each step of your audience's journey – to make every interaction successful and deepen your relationship along the way.
Most of you will be familiar with the concept of customer journey, or buyer's journey. It's the series of interactions a (potential) customer will typically go through as they move through the different stages of a purchase decision.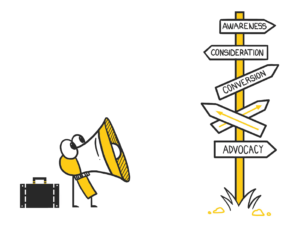 And if you're not selling anything? In an online environment, your audiences will most likely go through similar steps along the "journey". These lead from discovery of your activities to engagement with your offering, and your organisation.
To support each individual step and decision through the right kind of video, put yourself in the shoes of your audience.
The 4 steps of online decision-making
What is an audience journey? It describes the four discrete steps along the way which lead your audience from discovery to long-term engagement. Let's start with an example.
Awareness
Imagine it's late in the afternoon on a Monday and you're dreaming of taking a vacation. You still have a month to go before you'll be able to take that holiday. You're not quite sure where you want to go (or where you'll be able to, Covid rules permitting…), so you turn to Google for inspiration. You might search the web for tips on when to go where, browse kids-friendly destinations far away from the city, or read about an eco-friendly train journey on a budget.
Consideration
Fast-forward nine weeks: you've booked time off from work and decided to go to Austria. Again, you turn to Google – with a different agenda this time: to look into the practical aspects of the trip. Vienna nightlife or hiking in the Tyrolean Alps? Google knows best. You check out websites offering rankings of great places to visit and nearby activities. You end up packing both your high heels and your hiking shoes – Vienna and Innsbruck are pretty well connected, it seems.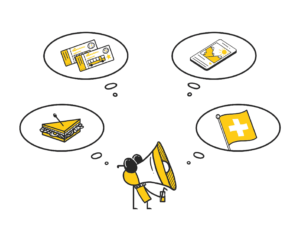 Conversion
Fast-forward another three weeks: you never got round to booking that trip, but it's in six days! What you need is a trustworthy platform that provides reliable, up-to-date information on available accommodation. You settle on a boutique hotel in Vienna with excellent ratings from young couples and book it over a large, international booking site. The overnight train prices to Vienna have skyrocketed in the meantime – so you're going by bus!
Advocacy
Two weeks later, you're back from your trip. It was great, so you log into the website you used for your research to post a few shots from that memorable night out in Vienna (and that bird that stole your sandwich). You also browse for new destinations based on recommendations made just for you – Switzerland seems to be worth a visit, too.
This is an example of an audience journey: the same person reaching out (at first, via Google) to the same company, about the same project – but at different stages of their decision-making process. Though the traveller in this example isn't necessarily a customer or buyer.
Whether you are selling a product, gathering votes, spreading the word about a project or seeking to change people's opinions about something – there are always four individual steps to any journey:
Awareness
Consideration
Conversion
Advocacy
At every stage, your audience's needs and priorities will differ wildly. Therefore, it's only natural that you'll need different types of video for each step of your audience's journey.
One of the first things we generally assess with our clients when launching the production of a new video or series is the target audience. This means not just assessing who they are, but who they are in relation to you. Your audiences' profile, size and composition evolve throughout their journey, and so should the way we address them.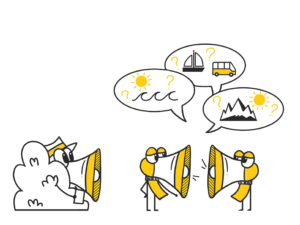 Ask the right questions
To determine who and where your customers are from a marketing perspective, ask yourself a series of concrete questions about them:
What are they trying to achieve at this stage? What information do they need to reach their goal?

How do they feel? What do they want to feel? (Anxious/looking for inspiration/…)

How do they find and interact with you?

How can you make their lives easier? What data do they need?

How can you access and channel their feedback?
Let's have a look at the different stages of the journey and examine the most important features for each stage.
Video for your audience journey: step-by-step guide
Awareness
At this first step of the journey, we target the broadest audience: all those who don't know about your work, nor why they should care.
The aim will be to get their attention in a positive and lasting way.
Typical examples for awareness videos are:
TV style ads creating a lifestyle association

with your proposal – fun, elegance, adventure…

Videos positioning you as a thought leader

on a specific topic: videos with

expert interviews

,

explainer videos

, …

Videos showing your human side

: giving insights into the daily life at your organisation, showcasing a cause you care about or have worked with…

Useful content

such as how-to videos. By helping audiences accomplish a specific task, you increase your chances of being found; by bringing immediate added value, you get a head start for the next steps of the process.
A good awareness video should be one or more of the following:
Attractive
Informative
Useful
Emotional
Case study: raising awareness with creative brand videos

A creative brand video tells your audience who you are and how this relates to what you do.

It captures what makes you stand out, and what your brand stands for.

When it comes to company branding, creativity is key because it's about inspiration rather than information – your brand video will practise what you preach. Your brand is amazing: you need an amazing video to let the world know.

How creative brand videos raise awareness
Consideration
During the second step of the journey, people who have become aware of your work will gather more information to make a decision on whether or not to choose your offering.
This doesn't just apply to selling products. These steps are also present when: applying for a job at your company, attracting voters, donating to your favourite canine charity, joining an online community…
Typical videos include:
Case studies or success stories

providing concrete examples of what you can do

User feedback

promoting the quality of your offerings

Showing off what you do

– while these have a function similar to awareness videos, they promote your work in a more concrete fashion: it's not about inspiring, but about showing options, added value and how to benefit from these in practice.
A good consideration video should be:
Factual
In-depth
Distinctive
Case study: pitching an app to local communities

Moja Okolica is a digital tool that allows municipalities to communicate directly with its citizens.

Our client needed an explainer video that clearly showed what the app does and how it works.

The video itself has reached over 20 thousand views on YouTube and Facebook alone.

Grow consideration with the right kind of video
Conversion
Arguably the most important step of the audience's journey: to make or break your relationship.
As your audience moves from the discovery stages towards a concrete choice, they are looking for increasingly precise information. They are also looking to be convinced – a killer argument to go the last mile and buy, or apply, vote, donate, click – in other words, to take action.
They can be nudged towards a decision by conveying a sense of urgency – it's not just about choosing you, but also about making a choice at the right moment.
Conversion videos catering to this specific audience are for example:
FAQs

clearing up any remaining doubts the audience may have

Comparison videos

: these can be "before and after" videos, but also videos comparing your proposal to those of competitors to provide additional arguments to those who seek to be convinced

Facts & figures

: videos providing data to add rational arguments in your favour
A good conversion video should feature one of the following:
Endorsement
Unique added value
Compelling arguments
Case study: convert viewers into participants with event videos

Video complements your event at all stages of the process.

They increase participation, contribute to a positive experience and facilitate follow-up.

Event videos are also a useful tool for connecting the dots between your different communications platforms, driving engagement where and when you need it.

How to achieve conversion with event videos
Advocacy
Conversion is not always a one-off event: we can define it as the moment when the audience first decides to choose you (buying, subscribing, etc.). However, this can take the form of a gradual process in which a trust-based relationship and deeper engagement is built. For instance, if your objective is to build your web platform's audience to drive ad revenue, conversion is the first click on your site that generates revenue. But what you are really looking for is a loyal audience that keeps coming back to your site for more.
Ideally, this audience will not only keep coming back, but also spread the word about their satisfaction with the experience.
You will be looking to create videos that will encourage visitors to spread the word about you, and to continue engaging with your offering. This can involve sharing your (video) content online or contributing to an online community related to your product. You can close the loop by reverting to content that is inspirational – similar to the 'awareness' stage content – but this time addressing already engaged audiences.
Advocacy videos are for instance:
"You might also be interested in"-videos based on your audience's previous choices

Update videos including information on new features they can access

Tutorials giving practical advice

Interactive videos helping to build a community of people who love your product and who can use this content to post about it and exchange about it online

'Awareness videos' (see step 1) pitched to engaged customers who signed up to your social media accounts or email updates and who can repost this content
A good awareness video should be one or more of the following:
Community-building
Social media-friendly
Preference-based
Awareness-raising (see step 1)
Case studies: turning employees into ambassadors of change

Solvay was reinventing their way of working.

To herald this change, Cartoonbase was tasked with producing a plethora of videos, visuals and other materials getting everyone on board.

A co-creative process enabled us to create materials that could be shared by a group of ambassadors that really believed in the project.

They were able to create a network of over 1000 mentors.

Driving advocacy with videos that connect communities
Don't forget the Call To Action
The call to action, or CTA, is an important element of any marketing video. When designing it, be mindful of the place your audience is in and adjust the call accordingly: this will impact how you phrase it ("Find out more", "Ask for a free quote" or "Get yours now"), but also to which section of your website you will link for example.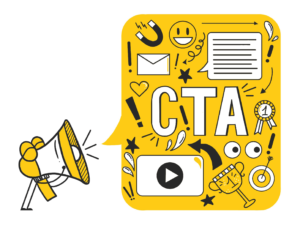 Looking for help to create the right video for your audience's journey?